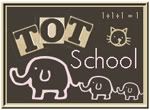 RockerTot was 29 - 30 months old.
I know I'm way late on this, but I was sorting photos from November and December and thought I'd do a quick post about some of the things he did near the end of 2009:
Here he is trying out his
SuperMind
for the first time. This was a gift and he absolutely LOVED it (still does).
Play-Doh can occupy him for hours now.
He cracked pecans at his Mamoo's house...
... and decorated Christmas cookies with RockerBoy.
He went to his cousin's birthday party at the zoo where he and RockerBoy held this ball python.
He also got to pet a bearded dragon.
He tried to play my bass.
We actually got a little bit of snow!
----------------------------
My other Tot School Updates
See what others have been doing in their Tot Schools
Tot School Homepage