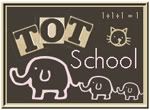 RockerTot is currently 20 months old.
----------------------------
I am still trying to figure out the best format for our Tot-School posts. Last week I divided our activities up by skill/content area. This week I think I'll give a day-by-day recap.
This week's focus was "Color of the Day". Each day, I chose a color and we focused much of our Tot-School time finding that color or playing with things that were that color. We also watched
Mickey Mouse Clubhouse - Mickey's Color Adventure
a few times this week (we had it recorded on our DVR).
----------------------------
Monday
I set up RockerTot's Blue Area the night before. (I used the shelves of his changing table.)
He built a blue
Mega Block
tower.
He then took the blue ball (made from his
Stack and Roll Cups
) and threw it to topple the tower. Then he repeated the process several times.
He attacked the blue nail on his
Poundin Nails
.
I cut the letters of his name out of felt and he insisted on using them. I hadn't planned on bringing them out, but he wanted them.
RockerTot learned to place cotton balls into a frosting container using tongs (all materials supplied by Mamoo). He loves this activity.
He also loved putting the cotton balls away. I hope it's a first step toward a clean room, but who am I kidding?
The
Lacing & Tracing Animals
were another activity that he requested.
----------------------------
Tuesday
This time, RockerTot woke to find that his shelves had red items on them.
He used his red shape sorter. (I normally use this one to store all of the shapes from the many shape sorters we have, so it was a change for him.)
He wanted to wear a red outfit and even put his rain boots on by himself.
He asked to play with his wooden number blocks (even though they weren't red).
----------------------------
Wednesday
RockerDad stayed home from work sick and RockerTot imitated him. We mostly took care of our sick RockerDad.
----------------------------
Thursday & Friday
RockerTot played with many of his Tot-School toys and his other toys. I just didn't seem to have the camera handy. Here is a picture of him using his fridge phonics.
----------------------------
I'll end with my favorite photo from this past week. I could have used one of the pics of RockerTot hitting the ball by himself, but I liked this one so much better.
----------------------------
My other Tot School Updates
See what others have been doing in their Tot Schools
Tot School Homepage