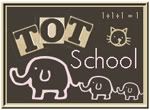 RockerTot is currently 32 months old.
He worked on
numeral recognition
.
He really liked our homemade "carrot" (easter eggs) Montessori Sound Boxes.
He practiced
writing and drawing
in a tray of salt.
We enjoyed playing this homemade game to help reinforce the numeral recognition activities. We used two of his little army men as playing pieces.
RockerTot made
chocolate-covered bananas
... yum!
RockerTot enjoyed a warm day in our yard and at the park with his big brother and his cousins.
He was a pirate..
...he found the Easter puzzle I was saving for next month ...
...he made a Play-Doh snake for me...
...he created a reading cave out of the box from his new car seat...
... he played "Bird's-Eye Bull's Eye" on Wii Fit Plus...
... he was full of energy (more than usual) this week.
RockerDad fried catfish and made homemade tartar sauce on Thursday evening (and even washed the dishes!). This is my favorite photo this week because I got a break. (RockerTot's fillet is broken because he couldn't eat an entire fillet.)
----------------------------
My other Tot School Updates
See what others have been doing in their Tot Schools
Tot School Homepage