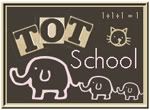 RockerTot is currently 34 months old.
READING
While most of our reading now focuses on books or other activities that I am too involved in to photograph, I hope to be able to show at least one reading-related activity per week.
He really enjoys spelling and reading word on his magnetic slate (thanks, Steph, for one of your many wonderful gifts!). I picked up the magnets at the Dollar General Store for $1.00 per set.
WRITING
I used his $1.00 mini magnetic doodler (Dollar General Store) with his
letter pieces and mat
to show him which letter to make. He begged for this activity.
He also did some homemade tracing pages, but I have no photos of those.
MATH
I'll admit, we do lots of math and number activities, but this week was a bit crazy. I was organizing and purging items from our math box when he woke up. He saw many things he hadn't done in a while as well as things that I have for the future. He wanted to try so many of these activities that I left the box out all week.
Here he is counting the squares to match the amounts on the bottom halves of his
Number Puzzles
to the numerals on the top halves.
I have been mixing up his refrigerator numbers daily and he puts them back in numerical order.
This is an activity that I made for him a long time ago. I haven't presented it to him except for the first time when it was no challenge to match up the sticks to their slots. We played with the sticks and added some together to make them match longer ones. It was a bit of fun before I retire the activity.
We played this grid game using poker chips, fuzzy dice and the grids that were left over after punching out his
Toy Story Memory
cards.
I placed two amounts (in two colors) of poker chips and asked him to count them and retrieve the corresponding magnetic number from the fridge for each. We then slid them together and he counted the total and retrieved that magnet as well. He really liked running back and forth during this activity.
He matched patterns to his
eraser pattern cards
and then told me what would come next if his paper was bigger.
We explored and discussed money for a while. He also compared/contrasted the real dollar with the "
play
" one.
I know, Easter is over, but he wanted to play this little Dollar Tree game.
Click
here
to see a sample of our Read-Alouds from this week.
He was a big help with the dishes.
Nothing too special... just normal outside play.
He built me a trophy (a new interest since starting T-Ball) out of

Trio Blocks
:
We played his new
Toy Story Memory
game.
... there are always lots of daily puzzles ...
He is determined to ride this thing.... he didn't believe me when I told him that it was more difficult in the grass.
----------------------------
My other Tot School Updates
See what others have been doing in their Tot Schools
Tot School Homepage