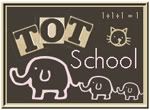 RockerTot is currently 34 months old.
Happy Easter!!!
Yes, I got his hair cut. His head was soaked with sweat while he was playing outside the other day. I felt so bad for him. I miss his hair... and I think he's looking too big, but I couldn't stand to see him suffer in our hot, humid climate.
He made this baby chick bag that I found at the Dollar General Store. He has been carrying it around with random small toys in it ever since it dried.
You know, nothing says "Easter" quite like a hatching dinosaur (also from the Dollar General Store). RockerTot enjoyed checking the progress of the "hatching" every few minutes. It actually took a full day to hatch. He named him "Stegosaurus". :)
He enjoyed playing with his
phonics eggs
. I had to help him sound out some of the words at the beginning of the week, but by Saturday, he could sound out and blend any c-v-c word RockerDad or I could think of. It was so cool!
Of course, we colored Easter Eggs.
Easter Reading
My Favorite Bible Stories for Toddlers (My Favorite Bible Storybook (Dalmatian Press))
My Little Book about the Miracle of Easter
The Story of Jesus (Little Golden Book)
Click
here
to see a list of our other Read-Alouds this week.
We did pouring and etiquette practice with his
new tea set
.
Yep, it's that time of year again. Bubble mower maintenance is key to having a beautiful lawn.
He took his Aunt's dog, Winston, for a walk when they came over.
Okay, so I'm guilty again this week... these aren't exactly nature, but they did occur outside:
We had a picnic on our front steps (RockerTot's first).
Here are shots from Easter Egg hunts...
... he found a prize egg (as did one of his Tee Ball teammates)!
Working those hand, wrist and forearm muscles... I mean... playing with Play-Doh...
Having a blast with RockerBoy...
He took Winston on a tour of our yard.
He played in his first Tee Ball tournament. (My eldest brother said that RockerTot was just "checking out the playing surface".)
Coach RockerDad was proud of all the Cubs!
----------------------------
My other Tot School Updates
See what others have been doing in their Tot Schools
Tot School Homepage