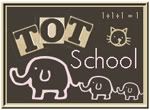 RockerTot is currently 27 months old.
>We've been officially on a break from structured Tot-School, but I thought I'd share some photos and a quick update of our fun times.
Well, this activity certainly wasn't planned. He found the puzzle and asked to work it. He's done this for several items, but this is the only photo I have. Yes, I've been camera-lazy.
While driving through Indiana we saw fields and fields of windmills. Our photos don't do them justice.
... John Cena impression...
... his dual railroad town ...
... playing in the dog cage in Illinois ...
----------------------------
My other Tot School Updates
See what others have been doing in their Tot Schools
Tot School Homepage