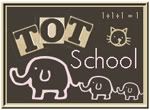 RockerTot is currently 26 months old.
----------------------------
Well, this is a short post. We're taking a break from "formal" Tot School for a few weeks. We just returned from a trip to Wild, Wonderful West Virginia for a family reunion. We will be going to the Chicago area Labor Day weekend for a reunion/birthday party as well. Until Labor Day, we are just taking it easy. I don't even have trays out right now. RockerTot's been asking for some, and I oblige, but we're just hanging out and playing together (he's still learning TONS). Anyway, here are some highlights from the past two weeks:
----------------------------
RockerTot loves to play with his bucket balance. He uses several different items with it. Here is a photo of him "balancing beans".
He also balanced a few of his Hot Wheels cars.
He loves for me to draw shapes, letters, etc for him to connect with lines.
He used his new
coin sorting tray
a few times.
...climbing our side gate...
...running hard playing Wii Fit...
...climbing the fence around the kids playground at our family reunion...
...trying to drive his great-aunt's power chair...
RockerTot and Mal Mal playing in a box...
----------------------------
My other Tot School Updates
See what others have been doing in their Tot Schools
Tot School Homepage