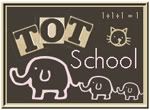 RockerTot is currently 25 months old.
----------------------------
RockerDad was off from work this week (they shut down every year for the 4th of July), so Tot-School was a bit different for RockerTot (which is a good thing). We played outside a lot this week and took a few day trips. I didn't take pictures of so many of the fun things we did, but that's okay... I probably have too many here as it is.
----------------------------
A while back, an internet friend of mine sent RockerTot several boxes of educational goodies. A set of (I believe) Attribute Blocks was included. The first puzzles I made for RockerTot using these were too simple, so RockerDad and I made several more this week which (we felt) were more challenging.
Here are the choo choo, the rocket ship, the tank and the house with the dog house.
Here is a large scene (sun, house, tree) with a smaller version of the same scene just below. I thought this would be the most difficult. The one on the right is supposed to be a robot.
I'm not really sure of what to make next, because he zipped through all six of our "puzzles" as though he had worked them a million times.
I'm still looking for some ideas for these blocks... my creativity has left me.
The only real "craft" project we did this week was this not-so-accurate U.S. Flag. I glued the blue construction paper onto the red and then cut stripes and stars out of white contact paper. He had fun and was very proud that he made the flag from the book he was looking at.
RockerTot was very excited about his leaf. He won't know what to think this Autumn when they're everywhere!
He picked up some dried grass and rubbed it on his face and smelled it. I guess I'll count this as a sensory activity. :)
He had fun climbing over rocks at the creek.
He was so happy that he caught his first firefly....
... here's a close-up of his firefly (and his dirty hand).
He loves his dump truck and is convinced that it's a ride-on toy.
Here he is in his "parking lot".
He knows how to kick a soccer ball, but he was only in the mood to throw it on this day.
He had lots of fun on his swingset. This is normally his big brother's swing, but he's discovered that he can use it, too.
... he still enjoys his own swing, though.
This is just one of the many games of catch that RockerDad played with RockerTot this week.
I just had to take a picture of him as he carried that big dump truck across the yard.
... he and RockerDad even played catch after dark.
RockerTot tries to listen as RockerDad explains how to pull the party popper.
He loved the noise made as he stepped on his Pop-Its (he didn't have the strength to pop them by throwing them down, so he stepped on them instead).
... playing with the confetti from his party poppers...
... hangin' out at our friends' cabin by the creek ...
RockerTot loves the bubble wand that Grandma gave him...
... it makes lots and lots of bubbles.
RockerTot is finally earning his internet name...
.... and now he's ready to go on the road.
----------------------------
My other Tot School Updates
See what others have been doing in their Tot Schools
Tot School Homepage