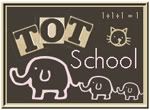 RockerTot is currently 20 months old.
----------------------------
Well, I didn't think we'd accomplished much this week until I started going through photos. Here's a recap of what we caught on camera:
----------------------------
RockerDad and I found this set of
Cooties
at a local thrift store for $0.50. I knew that RockerTot would not be ready for the game, but I saw them as a great fine motor skill activity.
They were such a big hit that RockerTot insisted on building more cooties just before bed.
These were the cooties he created all by himself.
----------------------------
Here is a shot of him playing with his
Magnet School
word cards.
Leap Frog
Fridge Phonics
are still a big hit here. (We have decided to only leave 5 letters each from the Magnet School and Fridge Phonics on the refrigerator so that they are easier to keep up with. We use the same 5 letters from each simultaneously and switch them out for new letters.)
We found this Leap Frog
My First Leap Pad
with the book, cartridge and batteries at the same thrift store mentioned above for $3.00. He loves this thing! I think he enjoys "reading" by using the stylus. It's so cute to watch him.
Auntie Di read some new mini board books to RockerTot while we were visiting at Mamoo & Papa's house.
----------------------------
RockerTot helped me bake some sugar cookies. He loved eating the dough.
He also "drew" in some leftover flour while the cookies were baking. He loved feeling the texture of the fine flour on his hands.
----------------------------
Just in case you're wondering, it wasn't all business around here this week. RockerTot got RockerDad's (clean) superhero boxers out of the laundry basket (he loves Batman) and wouldn't put them down.
----------------------------
I thought this photo would be a nice way to end the update. RockerDad and RockerTot threw rocks into the creek while waiting for a train. I snapped this photo as they settled to watch a Norfolk Southern cross the bridge into our sleepy little town.
----------------------------
My other Tot School Updates
See what others have been doing in their Tot Schools
Tot School Homepage