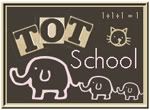 RockerTot is currently 19 months old.
Mommy and I played and learned so much yesterday. Here's a recap:
I was so excited that I didn't want to get dressed!
... sorting shapes ...
I never used to like these beads but now they are so much fun!
I finally ate breakfast and got dressed.
My train set is my favorite. I usually lay down to push my trains on the track.
I'm off to sort some more shapes!
When daddy came home from work, I played in the falling (but not really sticking) snow (but I already told you about that).
Mommy says we will probably update a few times each week, Tot School post durations will vary. If you have any suggestions to make our blog better, please let us know.
----------------------------
My other Tot School Updates
See what others have been doing in their Tot Schools
Tot School Homepage