Robbie had lots of fun with his penguins, white Lego blocks and items from his Snow/Ice sensory bin.

I pulled out many of our white Lego blocks from our cases and placed them into a small bin. I put the bin on Robbie's school shelves so that he could choose to play with these whenever he wanted, but they remained separated from his regular Lego sets.



He built a fun playground for his penguins.



One of the penguins went skiing on the building table.



That lucky penguin even had his own mug (of hot chocolate, according to Robbie) to drink from.



He played with these for hours. I never tire of joining in or even just watching while he uses his imagination.

---------------------------

I posted yesterday about some of the fun ways we incorporate Lego bricks and building into our days.

Lego: One of Our Favorite Learning Toys


Click below to see how other kids are playing over at Childhood 101.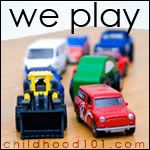 (I was not compensated by Lego for this post. This is simply how much we love them.)