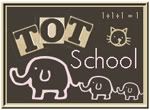 RockerTot is currently 29 months old.
RockerTot has been sick, so I've been too occupied with him to worry about blogging. Here are some of the activities he did just before and just after his illness. Hopefully we'll get back into the swing of things soon.
RockerTot always loves to see the Cootie tray. This is a great fine motor activity (plus, it's really fun to create silly cooties).
He enjoyed creating pictures with his magnetic barnyard playset. I wish he had more of these. He has so much fun with them. I love how they spark conversations about what the pieces are, where he is placing them and why.
He tried really hard to cut between the stickers. I think we'll stick with this for a while (or something similar) for scissor skills. He does better with this than with lines. I think he sees the purpose to this one (cut out the dinosaur).
He played with his bottle top name card. We only have his name. I don't have any more bottle tops. I think I'll try something else to make more cards for him.
He made a construction paper jack-o-lantern.
He had lots of free play with his pattern blocks. He was learning how to make shapes out of other shapes. I love free play.
I didn't place this one out, but he saw it and begged for it. He really seemed to enjoy sorting the coins and talking about their names.
He made his Bb page (we aren't doing the alphabet in order). He still randomly says "buh, buh, Bumblebee". The transformer, Bumblebee, seemed to make this project more interesting and special to him. I'll have to try to make his pages as personalized to him as possible.
He's been asking to play with our dominoes for months, but I thought it was too soon. I can admit when I'm wrong. I showed him how to match up ends and he went to town. The blank ones threw him at first, but he figured it out.
Biscuit dough pizzas...
... and decorating cookies...
For some reason, every picture I shot of him playing involved some sort of building toy. He is usually trying to build a robot.
----------------------------
My other Tot School Updates
See what others have been doing in their Tot Schools
Tot School Homepage