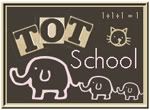 RockerTot is currently 25 months old.
----------------------------
This week was chaos, but we did manage to get some photos in-between the chaotic moments. Please forgive me if this post doesn't make sense. RockerDad had a violent reaction to something and we spent the night at the ER.
I have added something new this week. If you are needing to see what we were doing at different ages, you can now jump to those posts via the left sidebar. Simply click on whatever month you'd like to see.
I think that's all for now. I hope you enjoy our weekly recap.
----------------------------
He enjoyed playing with his new "pegboard" from the Dollar Tree. It's just one of the peg games where you jump the pegs on the triangular board in an attempt to leave only one peg (like they have at Cracker Barrell).
He sorted erasers into our egg tray and played with the container lid.
He then decided to pour the erasers from one container to the other.
He worked many puzzles this week. His lowercase alphabet crepe puzzle was his favorite (Dollar Tree).
(I must've washed these jammies in-between these sets of photos. He didn't do all of the above and below things on the same day.)
He is still crazy about his
geoboard
. His favorite shape this week was the rectangle.
I snapped a photo of him showing me how many white parallelograms he had made. (White seems to be his current favorite color.)
He learned that washing garden mud out of your shoes at the outside faucet is wet... and fun.
We saw bearded dragons at the pet store.
RockerTot loves to walk through Mamoo's garden.
He's been learning how to pick beans. Mamoo is a great teacher!
He was very protective of his cucumbers.
He loves to study the creepy-crawly critters.
He checked out what Thomas the Tank Engine was up to on his Viewmaster.
Every time we go to this particular mega-store, RockerTot needs to see "Steve's Big Truck" (it is similar to my brother, Steve's truck). This Power Wheels truck is over $350!! Last night, we saw someone offer the manager $125 for the display model and they accepted it. We didn't even know that was an option. Oh well, I'd rather wait until he is more proficient on his tricycle for him to have an "automatic" vehicle... if ever.
... goofing around on Mamoo's porch...
He enjoyed being high atop the swingset, watching the grown-ups work in the garden.
I snapped this photo of him using his new (to him) easel. (It was a $5 Goodwill find.)
We brought back out his Dinosaur Land book and pop-up playset. We had a blast reading the book and acting it out.
RockerTot, RockerDad and I all went to a real soda fountain (still in a drug store) in a neighboring town. This was RockerTot's first time, and boy did he enjoy his sundae!
----------------------------
My other Tot School Updates
See what others have been doing in their Tot Schools
Tot School Homepage