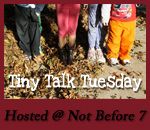 Robbie is 38 months old.
While spelling the word "peel":
"Peel is just pee with an L!"
(followed by lots of giggling)
--------------------------
During a phone conversation with me while he was spending the night at my parents' house:
"I will eat popcorn, watch a movie with Papa, go night-night with Papa, wake up, eat cereal and then I will call you to come and get me so Moo can get ready for church."
(I think he's better at planning than I am! FYI: Moo is what he calls my Mom.)