Well, I've never joined in on this blog carnival before, but I thought I would give it a whirl.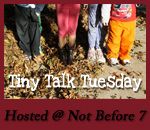 Robbie is 38 months old.
Robbie (to me): "Don't do bad things anymore. Be a good Mommy."
Me (confused because it had been a quiet and wonderful day): "What bad thing did I do?"
Robbie: "You made me clean my room when I wanted to be Woody."
(During a car ride while staying in Flat Top, WV..)
Robbie: "Where are we going?"
Me: "Back to Uncle R's house."
Robbie: "Back to Laptop?"
(The next day he called it Flap Top while speaking to my aunt.)