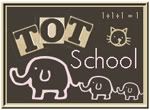 RockerTot is currently 23 months old.
----------------------------
I placed part of our Tot-School pics from this week on last week's post, so this looks like a short week.
----------------------------
I made this hammering block out of a piece of dense upholstery foam that RD brought home from work (scraps), some of Uncle Shaky's golf tees and one of RockerBoy's old toy hammers. RockerTot loved hammering in the "nails" and the toy hammer had a claw end that worked beautifully for removing the "nails" just like the big guys do it!!
Here is a pic of his painting tray. I soaked a paper towel in water and placed it into the small cup for him to wet his cotton swabs. At this rate, the $0.67 choo choo (Wal-Mart) will last for months. He still has plenty of painting room left.
I didn't get a pic while he was stickering, but here is his sticker book. I used the empty "holes" on his sticker page to make a game where he can place the stickers in the circles. He raids the sticker stash whenever he can get away with it.
I used some more of the sticker "holes" cut into strips on a styrofoam cup. Here he is sticking toothpicks into the circles.
He loved opening the old grated cheese container flip-lid. I don't have a pic, but he loved to drop the toothpicks in the shaker holes and then spill them back out of the large (spooning?) opening on the other side.
He dragged one of the dining chairs over to the sink while I was washing dishes so that he could help. I thought it was adorable.
RockerDad took this photo of a Hawk in our back yard. He and RockerTot were transplanting their pepper plants when they spotted the very large bird.
I have such a hard time getting him to smile when I take photos that I wanted to share this moment I caught while he was playing with his cars.
RockerTot in his "cool hat" (as he calls it).
----------------------------
My other Tot School Updates
See what others have been doing in their Tot Schools
Tot School Homepage