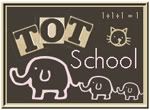 RockerTot is currently 23 months old.
----------------------------
We have changed our format just a bit. I have never left trays out for RockerTot until this week. He now has three out at a time and he may choose to do them whenever he wishes. He is also learning to put them back. He's really doing much better than I had anticipated. I'm working on placing many of his things at his level so that he can have a certain level of independence. We also started potty-training this week...
read here
to find out why.
----------------------------
Transferring musical note erasers from the Dollar Tree and sorting them by color. I got the 3 wooden paperclip trays at Big K for $0.99 each.
Hammering and pulling out nails was popular this week.
I placed a large cookie sheet on the wall and we're calling it our "Letter Board". This week, I had his
Leap Frog Fridge Phonics
out for him to use. He played with this several times each day.
I found this slate at the Dollar Tree and he loved it. He called it "Petrie", from
The Land Before Time
.
This is our new tray area. I only have these three shelves, so I decided to put out three trays and change them out every few days for variety.
I made him this scaled down stair-stepping rods activity using foam from the Dollar Tree and drinking straws (i glued small dowels inside of the straws for added stability). RockerTot enjoyed this more than I thought he would (probably because of the "puzzle" aspect).
Here is a pic of RockerTot's new table setting tray. He was intrigued by this. I had to show him how to roll out the mat (he wasn't even sure what it was).
I traced his tableware onto the Dollar Tree placemat.
He loved cutting strips of paper. He's getting better!
These are tray activities that RockerTot asked (sometimes begged) for even though they weren't out this week.
...his Mickey Mouse stamp set... (Dollar Tree)
...beans and random stuff...
The
First Words Puzzle Game
. I figured he would work a few and move on, but he wouldn't stop until he had worked all 14.
Here he is modeling his new apron from The Dollar Tree. It hangs on a low hook so that he can get it and put it back by himself.
I took this picture after he dressed himself for the first time. He likes to take his clothes off, so now he knows how to put them back on again.
RockerTot requested smoothies again while RockerDad was mowing the lawn. Here he is adding fruit. (I never plug the blender in until he's finished and the lid is on.)
... using his vacuum to clean the kitchen for Mommy...
RockerTot spent lots of time outside exploring nature, but we unfortunately forgot the camera. He went to the pond, the creek and spent lots of time in the yard. We also went to the pet store (which we call the "free aquarium") and he called the Bearded Dragons "dinosaurs".
It's not that he only played once this week, it's just that this is the only photo I took this week.
----------------------------
My other Tot School Updates
See what others have been doing in their Tot Schools
Tot School Homepage